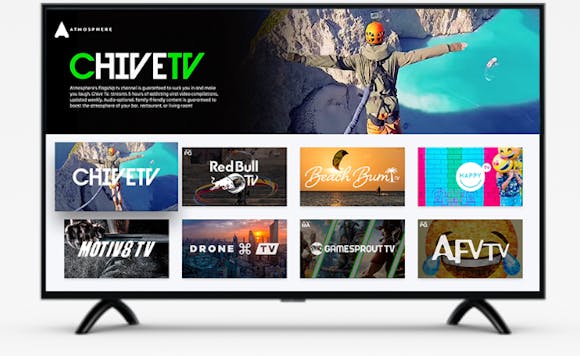 Stream direct to the TV's in your gym
Engage your customers in a whole new way
Working out can be boring and repetitive. Give your customers something fun and motivating to watch. Our programming makes the time fly so 30 minutes on the treadmill feels like 10.
Better than closed captioned news and sports
People are at your facility to release stress and get healthy and let's face it, news is depressing. Sports are great, but talking heads with closed captions are not. Treat your customers to something better.
Audioless TV entertainment
90% of gym goers wear headphones. Give them content that requires no audio to enjoy.
Enhance the vibe
Whoever claims working out can't be fun should be forced to do 1,000 burpies…Motiv8 TV's content is meant to motivate and make you laugh. It's infectious and adds a level of fun to a traditionally serious activity.
Replace commercial breaks with your promotions
Promote your gym's specials and amenities with content
Grab your guests' attention with amazing content then mix in your own marketing promotions. Our Digital Signage Manager allows your messages to show up between the content.
Upload or create your own graphics
Simply upload your video or static files and schedule when and where you'd like them displayed. You will also have access to a vast library of templates that are customizable with our text-authoring tool.
Software that anyone can learn and use
Atmosphere's Digital Promotion Manager requires 9 minutes of training. Nuf said.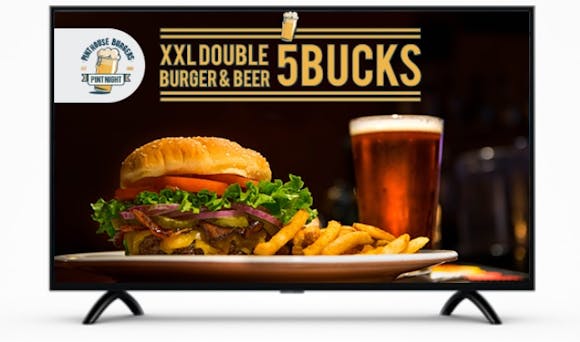 Find the perfect channel for your gyms and health clubs
5 hour loops of viral, family-friendly video, updated weekly
Easy DIY installation that anyone can do
Powered by an Apple TV
Access and stream Atmosphere's channels via an enterprise-grade Apple TV.

Plug n' Play, on any TV
Simply plug your Apple TV into any TV or matrix system, connect to the internet, and you're off!

Entertain in any setting
Atmosphere's programming doesn't require audio to be enjoyed, so it's perfect for any business type.
Join over 10,000 businesses, streaming now
Perfect for bars, restaurants, hotels, gyms, healthcare, salons - even stadiums!