What is Atmosphere?
Atmosphere is the world's leading streaming TV service designed for businesses. Choose from over 50 channels of audio-optional video content, refreshed regularly, to entertain your customers while they wait for service.
Whether you're an auto repair and maintenance shop, car wash, or dealership, Atmosphere is the only entertainment solution designed to help grow your business.  
Try Atmosphere for free
Stop paying for cable or satellite programming that doesn't add value to your business. With Atmosphere, business owners get full control over what's playing on their TVs, from the entertainment to the commercial breaks — all for free. 
Elevate your space 
Engage with customers in a whole new way
Stream curated content directly to your existing TVs, then mix in your own promotions to communicate directly with customers while they're already watching. 
Designed to watch in businesses
Our programming is family-friendly and never relies on audio or closed-captions. Customize what's playing on your TVs at any time with content guaranteed to make customers smile.
Happier customers lead to better business
Atmosphere is proven to reduce perceived wait time and improve moods. Our channels are designed for a variety of interests to entertain every customer.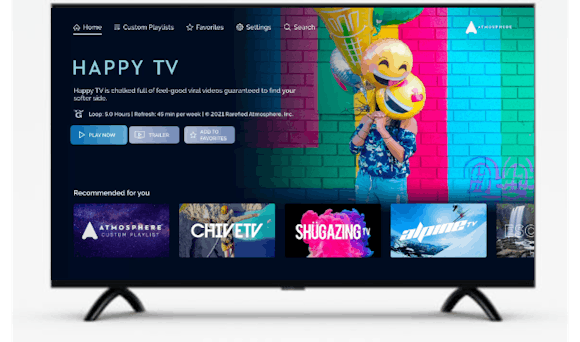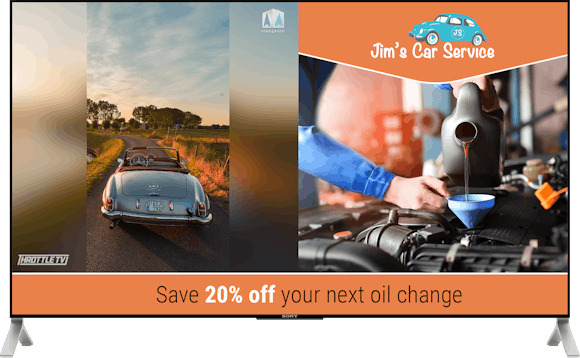 Play a channel for every mood
Entertain
Choose from over 50 themed channels designed to make customers happy, like America's Home Videos TV, Drone TV, Happy TV, Red Bull TV, Throttle TV, X Games TV, and more.
Engage
Capture customers' interests with unique channels like Atmosphere News, Companion TV, Digital Trends, Superhuman TV, The Bob Ross Channel, World Poker Tour, and more.
Relax
Help customers unwind with Atmosphere's visually calming channels, including Beach Bum TV, Deep Blue Discovery, Deep Sky TV, Escape TV, Oddly Satisfying TV, and more.
Drive sales with digital signage
Display custom promotions
Take back control of commercial breaks by running your own marketing in between Atmosphere's content. The Digital Signage Manager lets businesses display custom promotions in front of an engaged audience. 
It's easy to use
Simply upload your video or image files and schedule when and where you'd like them displayed. Access our vast library of pre-designed templates that are fully customizable with our text-authoring tool.
Brand channels with your company logo
Atmosphere lets you label video content with your business' logos and colors. Please contact one of our Enterprise sellers (sales@atmosphere.tv) to discuss branding options.
Find the perfect channel for your shop
5 hour loops of viral, family-friendly video, updated weekly

Dive into the deepest corners of creativity with mind-bending dynamic artwork and ethereal moods, leaving you in a sensorial state of euphoria.

Watch Live

|

View Trailer

|

Learn More

See all channels
Easy DIY installation that anyone can do
Powered by an Atmosphere device
Access and stream Atmosphere's channels via an enterprise-grade streaming device.

Plug n' Play, on any TV
Simply plug your Atmosphere device into any TV or matrix system, connect to the internet, and you're off!

Entertain in any setting
Atmosphere's programming doesn't require audio to be enjoyed, so it's perfect for any business type.
Join over 15,000 businesses, streaming now
Perfect for bars, restaurants, hotels, gyms, healthcare, salons - even stadiums!