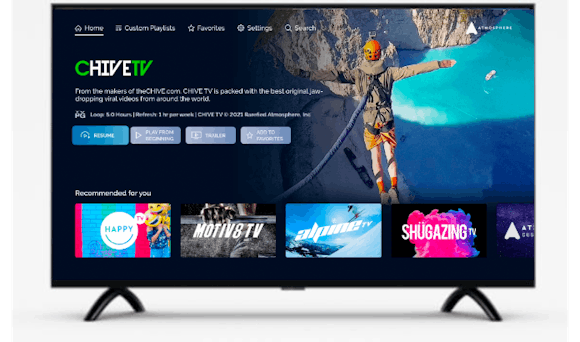 What is Atmosphere?
Atmosphere is streaming TV for your employee break rooms
Atmosphere is the world's first and leading streaming TV service for break rooms and other areas of your business. You get 55 channels of ambient TV programming that your employees can enjoy while they're on their breaks. 
All break room TV channels are audio-optional, which means you can run them with the sound on or off – no closed captioning necessary. Atmosphere also lets you insert targeted messages with easy-to-use break room digital signage software. It's entertaining – and informative!
Atmosphere is free
Stop paying for cable or satellite programming that isn't appropriate for the break room environment. Atmosphere is completely free for your business – plus you get a free enterprise-grade streaming device with Atmosphere pre-installed.
Stream directly to the TVs in all your break rooms
Engage with your employees in a whole new way
Grab your employees' attention with amazing streaming video content, then mix in your own company announcements and promotions. Our Digital Signage Manager lets you insert your own messages between the video content. It's like having real-time break room signs!
Boost morale
Let's face it, most employees would rather be doing something other than working. Give them something fun and entertaining before work or during their break to help bring fun and excitement to the day
Safe for work – with or without audio
Don't worry, all of Atmosphere's programming is safe for work and won't offend anyone. And, unlike watching cable or satellite TV, you don't have to turn up the sound for your employees to enjoy what they're watching. All of Atmosphere's channels are audio optional, meaning employees can watch with the sound down or turned up.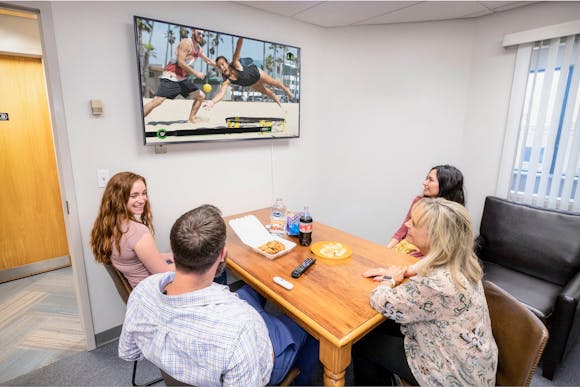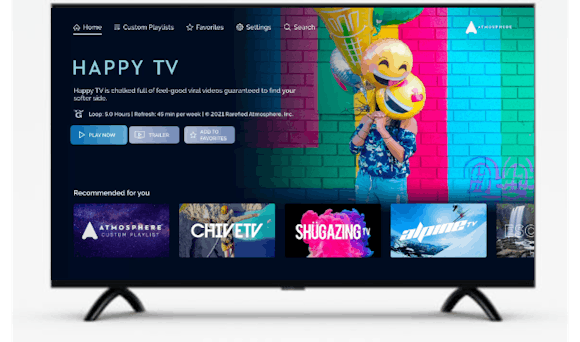 Let Atmosphere create the right break room environment
Entertain
Atmosphere lets you choose from any of 55 themed channels. You can keep your employees entertained with America's Home Videos TV, Drone TV, Happy TV, Red Bull TV, Throttle TV, X Games TV, and more.
Engage
Perhaps you'd rather engage your employees with informational videos. Choose from Blossom TV, Paws TV (cute and cuddly animals), Digital Trends, Superhuman TV, The Bob Ross Channel, So Yummy, World Poker Tour, and other engaging channels.
Relax
Some employees want to relax on their breaks, so let Atmosphere help them do that. You can choose from several visually calming channels, including Beach Bum TV, Deep Blue Discovery, Deep Sky TV, Escape TV, Oddly Satisfying TV, and more.
Create digital signage for employee engagement
Engage your employees
Atmosphere is more than just relaxing break room content. It's also about improving employee engagement with digital signage. Use the breaks between videos to display company announcements or promotional messages.
It's easy to use
You can create your own customized messages with Atmosphere's Digital Signage Manager. Simply upload your video or image files and schedule when and where you'd like them displayed. You also have access to a vast library of pre-designed templates that are customizable with our easy-to-use text-authoring tool.
Brand channels with your company logo
Atmosphere lets you "white label" its video content with your company's logos and colors. Please contact one of our Enterprise sellers (sales@atmosphere.tv) to discuss branding options.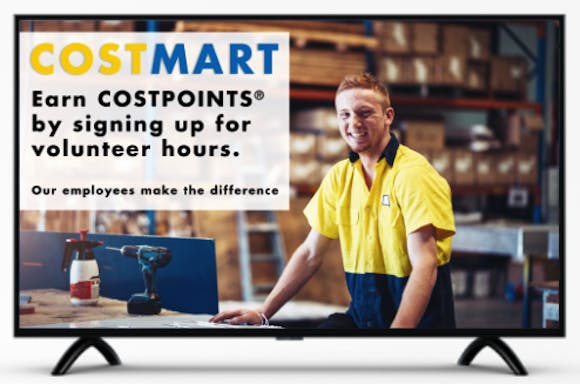 Find the perfect channel for your break rooms
Every channel features five-hour loops of viral videos, updated weekly. Here are two of our most popular break room channels.
Easy DIY installation that anyone can do
Powered by an Atmosphere device
Access and stream Atmosphere's channels via an enterprise-grade streaming device.

Plug n' Play, on any TV
Simply plug your Atmosphere device into any TV or matrix system, connect to the internet, and you're off!

Entertain in any setting
Atmosphere's programming doesn't require audio to be enjoyed, so it's perfect for any business type.
Join over 10,000 businesses, streaming now
Atmosphere isn't just for employee break rooms – it's also playing in bars, restaurants, hotels, gyms, healthcare, salons, and other public venues. Check it out today!