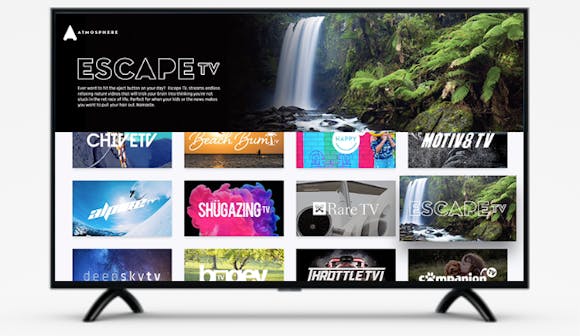 Stream direct to the TVs in your spa
Enhance the vibe
When customers visit your spa and wellness center, they expect to relax and spend quality time far from their busy schedules.  While they may be willing to spend a few more dollars, they might be unaware of other special services that you offer. 
By using a digital signage spa TV, you can bridge this gap by providing your customers with the right entertainment and promotional materials about your services. According to the data published at Statista, Digital Out-of-Home (DOOH) advertising is growing at a rate of 7.3% per annum globally. The digital signage market value is expected to hit a global high of about US$26.3 billion by 2027. 
Being part of this digital transformation will give you an edge over other spas and wellness centers in your area.
Audioless TV entertainment
Having the audio on TV is distracting and closed captions are annoying. Escape TV was made for audio-less viewing so you can play your own music in the background
Transform your Spa and Wellness Center with Digital Signage Spa TV Technology
The importance of digital signage TV technology to the modern interactive business environment cannot be overemphasized.  When seamlessly utilized, digital spa TV can enhance customer experience, improve operational efficiency, and boost sales significantly. 
Create and Display In-house Promotional Content on your Digital Spa TV
Wellness center TV is a great tool for showcasing your services, new offers, and selected customer testimonials. Also, sharing social media handles on your spa TV is a proven way to expand brand awareness and expand your customer base.
Create your own graphics and upload video and static files to our user-friendly software tools. Utilize the Digital Signage Manager (DSM) tool to schedule promotional messages, videos, and static files to be displayed between content at the desired time. 
Use our text-authoring tool to customize your content using Zen templates available in the software library. It takes less than 10 minutes to learn and start using the DSM and the text-authoring tools.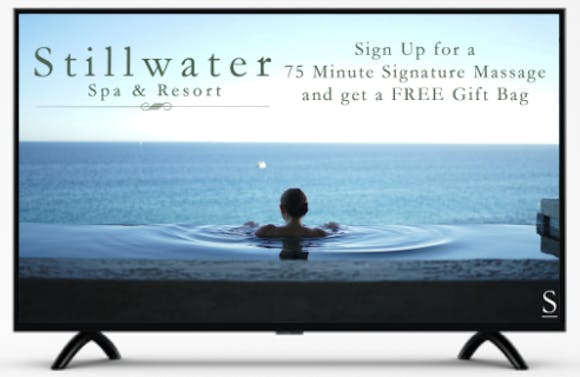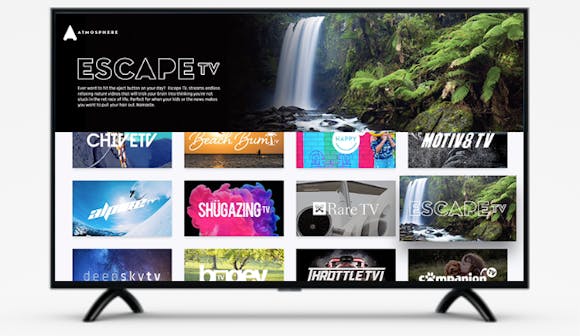 Enhance the Atmosphere by Streaming Content Directly to your Spa TV Screens
Stream curated entertainment content from the available Atmosphere Channels to your spa TV.
On top of your core spa services, spruce up the environment of your waiting and relaxation rooms with beautiful scenes. Engage your customers and give them an unforgettable experience with audio-less Escape TV entertainment. 
Enjoy Flexibility with Spa and Wellness Center TV
Unlike printed posters, digital signage can be updated easily and in record time without affecting other content. This provides a faster response to the ever-changing beauty and recreation market. 
Atmosphere's Digital Signage Spa TV Subscription Plans
Review and purchase a TV subscription plan that perfectly suits your spa and wellness center business. 
Find the perfect channel for your spas and wellness centers
5 hour loops of viral, family-friendly video, updated weekly
Easy DIY installation that anyone can do
Powered by an Atmosphere device
Access and stream Atmosphere's channels via an enterprise-grade streaming device.

Plug n' Play, on any TV
Simply plug your Atmosphere device into any TV or matrix system, connect to the internet, and you're off!

Entertain in any setting
Atmosphere's programming doesn't require audio to be enjoyed, so it's perfect for any business type.
Join over 10,000 businesses, streaming now
Perfect for bars, restaurants, hotels, gyms, healthcare, salons - even stadiums!