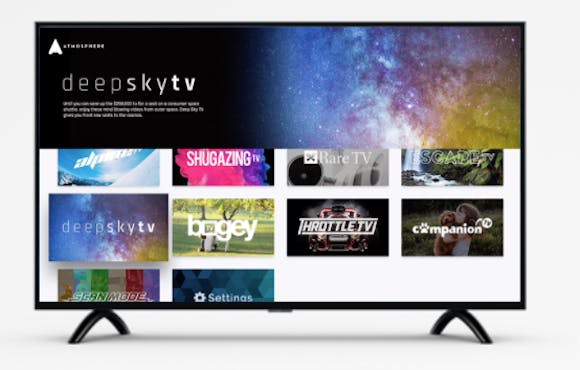 A fresh new TV option for your travellers
The perfect replacement for CNN Airport
Atmosphere's suite of original ambient TV channels can be enjoyed with or without audio. We have a channel for every mood and age - and all content is family friendly
Improve your airport's business in meaningful ways
* Reduce perceived wait time with family friendly, relaxing content 
* Improve travellers' mood with content that is always upbeat, never political, and never polarizing
* Reduce cost
* Drive revenue/attention for concessionaires or make announcements with our digital signage
Airports are loud. Why add to the stressful cacophony? 
Noise reduction in airports will help your flyers stay calm and hear important announcements. Reducing background blather also allows travelers to enjoy their own audio entertainment – i.e., podcasts, streaming music, and audiobooks. 
You can reduce background noise in your airport with Atmosphere's suite of original ambient TV channels. These entertaining TV channels can be enjoyed with or without audio and are free to broadcast on as many screens as you like. 
We have a channel for every mood and age - and all of our content is family-friendly.
Atmosphere TV for Airports Will Improve Your Business – Quietly
Flying can stress people out. Superfluous noise always stresses people out. 
Reducing audio volume is a simple way to help people stay calm. But you already know this. It's why you turn down your car's stereo volume when you're lost.
Use Atmosphere's built-in digital signage displays to make noiseless announcements. 
Atmosphere TV for airports can be shown at low or no volume and doesn't require subtitles to watch either. Our relaxing and family-friendly content is inclusive and helps reduce travel tension. It's language-free TV!
Time flies when travellers have fun
Low-stress entertainment is known to reduce perceived wait time. 
Showing news on TV is informative but rarely low stress. It can also be polarizing. 
Atmosphere TV improves travellers' moods with upbeat content that is never political or polarizing – only stimulating. It's perfect for diverse, mass audiences. Positive wait experiences can directly translate into a satisfactory overall airport experience. 
Reduce costs with airport digital signage
Calm travellers are more likely to roam an airport. While focusing on your entertainment, they are ripe for digital signage. 
You can drive attention for concessionaires and increase sales with targeted advertisements. You can easily embed announcements and targeted advertisements in your TV streams.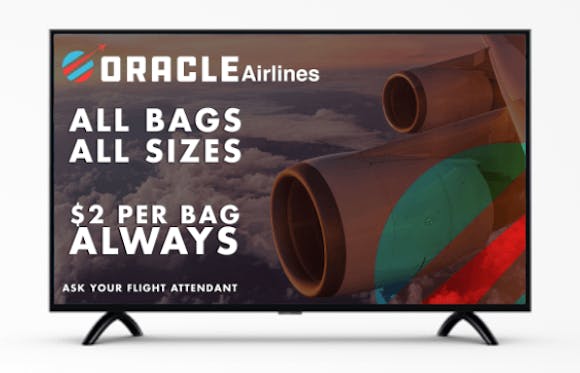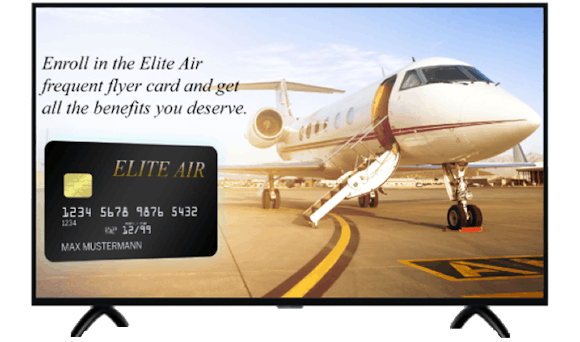 Use Airport Digital Signage to inform your travellers
Grab your guests' attention with amazing content, then mix in your own marketing promotions. 
Our Digital Signage Manager allows your messages to show up every 3 minutes between the content. Sell these advertising goldmines to concessionaires to boost airport revenue. 
Digital Advertising in Airports Will Save You Money
Save money on print materials and other signage options by switching to Digital Signage. 
Our solution is a fraction of the cost of any other option out there. Printed signage costs money. It takes time to design. Worse, it quickly goes out of date. It often requires the hiring of a third-party vendor. 
Atmosphere offers you digital signage. Use our customizable templates to design, update, and deliver signage quickly. 
Broadcast and promote anything instantly on your screens, including: 
Flight updates
Boarding calls
Public safety announcements
TSA lost items 
Find the perfect channel for your airport
5 hour loops of viral, family-friendly video, updated weekly
Easy DIY installation that anyone can do
Powered by an Apple TV
Access and stream Atmosphere's channels via an enterprise-grade Apple TV.

Plug n' Play, on any TV
Simply plug your Apple TV into any TV or matrix system, connect to the internet, and you're off!

Entertain in any setting
Atmosphere's programming doesn't require audio to be enjoyed, so it's perfect for any business type.
Join over 10,000 businesses, streaming now
Perfect for bars, restaurants, hotels, gyms, healthcare, salons - even stadiums!