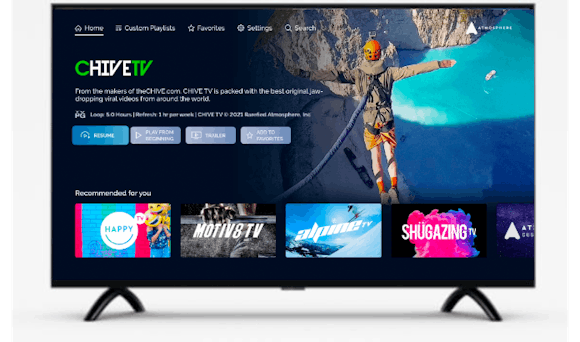 Stream direct to the TVs in your laundromat
Better customer experiences lead to better reviews
Atmosphere's ambient TV channels, specifically CHIVE TV, not only enhance the vibe of your laundromat, but keep people entertained. Translation: More satisfied customers that keep coming back and leaving positive reviews for your business
Keep the controversy out of your business
Turn waiting for the dryer into something entertaining - Atmosphere's 64 channels allow for you to always find the perfect channel to keep your guests entertained. Add positive energy to your laundromat with the perfect Atmosphere channel for all guest types
Replace commercial breaks with your promotions
Promote your laundromat's specials with content
Grab your guests' attention with amazing content then mix in your own marketing promotions. Our Digital Signage Manager allows your messages to show up between the content
Upload or create your own graphics
Simply upload your video or static files and schedule when and where you'd like them displayed. You will also have access to a vast library of templates that are customizable with our text-authoring tool
Software that anyone can learn and use
Atmosphere's Digital Signage Manager requires 9 minutes of training. 'Nuff said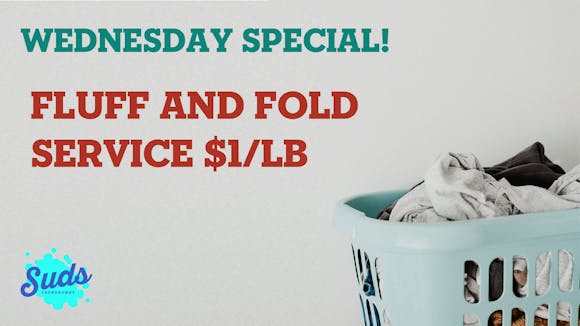 Trusted by laundromats and preferred vendors alike
"For the first time in a long time I have seen people actually watching the TVs in my laundromats. Even the kids will watch. What are they watching? Videos on Atmosphere. I have set mine on a playlist that includes a mixture of some extreme sports as well as calming videos."
-Ken Barrett, President Golden Springs Laundry Services
"I have Atmosphere running at two of my locations. Installation was easy and the cost savings (Free!) are noticeable. As I looked for way to reduce my operating expenses without takign away from overall customer experience, this program was the right solution at the right time."
-Stacey Runfola, Owner Laundry Stop
Source: Coin Laundry Association
Find the perfect channel for your laundromats
5 hour loops of viral, family-friendly video, updated weekly
Easy DIY installation that anyone can do
Powered by an Atmosphere device
Access and stream Atmosphere's channels via an enterprise-grade streaming device.

Plug n' Play, on any TV
Simply plug your streaming device into any TV or matrix system, connect to the internet, and you're off!

Entertain in any setting
Atmosphere's programming doesn't require audio to be enjoyed, so it's perfect for any business type.
Join over 10,000 businesses, streaming now
Perfect for bars, restaurants, hotels, gyms, healthcare, salons - even stadiums!