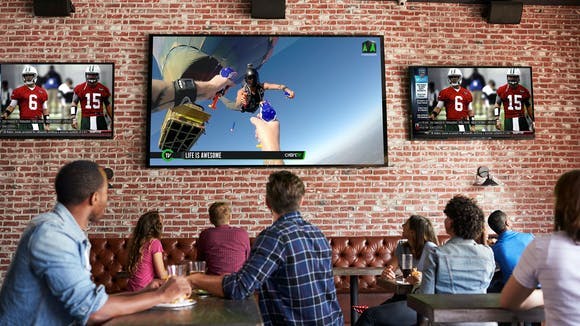 What is Atmosphere?
Atmosphere is a streaming service for your medical office waiting room TV.
Atmosphere is the world's first and leading streaming TV service for physician and hospital waiting rooms. You get 64 channels of ambient TV programming that your patients can enjoy while they wait for their appointments. All channels are audio-optional, which means you can run them with the sound on or off – no closed captioning necessary. Atmosphere also lets you insert targeted messages with easy-to-use digital signage software. It's entertaining – and informative!
Atmosphere is free
Stop paying for cable or satellite programming that doesn't fit your waiting room environment. Atmosphere is completely free for your practice – plus, you get a free enterprise-grade streaming device with Atmosphere pre-installed.
Stream directly to all the TVs in your waiting room
Set your patients at ease
Let's face it – unless they're having a baby, no one really wants to be at the hospital or doctor's office. Help your patients relax with uplifting and entertaining video content streamed right to your medical office waiting room tv that will set them at ease and make them laugh! Laughter is the best medicine, and there's plenty of it with Atmosphere.
Better than boring medical content
Many doctor's offices play boring medical content for their waiting patients. It's not what patients want, and it doesn't set a calming mood. Instead, choose one of Atmosphere's 64 themed channels to create a more calming environment for your patients.
Streaming entertainment – with or without audio
Most patients don't want a TV blaring in the background while they're waiting to be seen. Atmosphere's programming is all audio optional – you can turn up the sound if you want, but you don't need to. Enjoy Atmosphere's engaging video content while you play your own relaxing music in the background.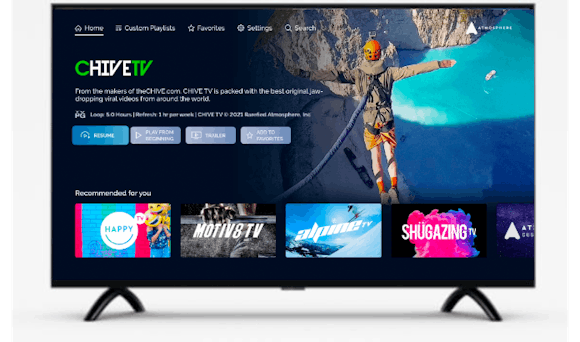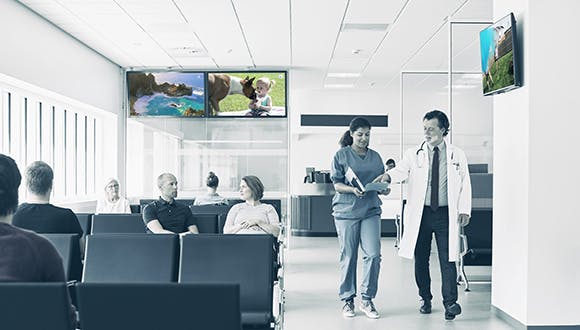 Let Atmosphere set the mood for your patients
Nobody likes to sit in a silent waiting room. Instead, let Atmosphere help you set the mood for your waiting room.
Entertain
Atmosphere lets you choose from any of 64 themed channels. You can keep your customers entertained with America's Home Videos TV, Drone TV, Happy TV, Red Bull TV, Throttle TV, X Games TV, and more.
Engage
Perhaps you'd rather engage your patients with informational videos. Choose from Blossom TV, Paws TV (cute and cuddly animals), Digital Trends, Superhuman TV, The Bob Ross Channel, So Yummy, World Poker Tour, and other engaging channels.
Relax
Many patients get nervous in the waiting room, so use Atmosphere to help them relax. You can choose from several visually calming channels, including Beach Bum TV, Deep Blue Discovery, Deep Sky TV, Escape TV, Oddly Satisfying TV, and more.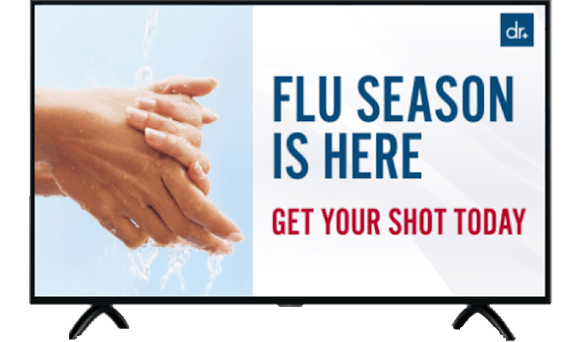 Replace commercial breaks with your customized waiting room tv programming
Instead of having your patients sit through commercial breaks, you can customize their viewing experience in various ways:
Healthcare Digital Signage
Atmosphere is more than just relaxing content. It's also about healthcare digital signage. Save money on traditional advertising by promoting to your patients with Atmosphere's waiting room TV advertising. Our digital signage solution is a fraction of the cost of any similar options out there
Promote your services
Use the breaks between videos to talk about your practice. Promote the services you offer, profile key staff, or display other information of interest to your patients.
Upload or create your own graphics
It's easy to create your own onscreen information. Simply upload your video or image files and schedule when and where you'd like them displayed. You also have access to a vast library of pre-designed templates you can customize with our easy-to-use text-authoring tool.
Choose the perfect channel for your patients
Every channel features five-hour loops of viral family-friendly video, updated weekly. Here are two of our most popular waiting room channels.
Easy DIY installation that anyone can do
Installation is as simple as following the necessary prompts for your device:
Powered by an Atmosphere device
Access and stream Atmosphere's channels via an enterprise-grade streaming device.

Plug n' Play, on any TV
Simply plug your Atmosphere device into any TV or matrix system, connect to the internet, and you're off!

Entertain in any setting
Atmosphere's programming doesn't require audio to be enjoyed, so it's perfect for any business type.
Join over 10,000 businesses, streaming now
Perfect for bars, restaurants, hotels, gyms, healthcare, salons - even stadiums!