Free TV For Restaurants
Save money with custom restaurant digital signage
GET IT NOW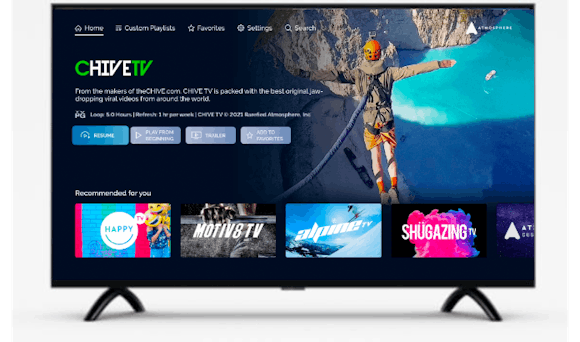 Stream directly to the TVs in your restaurant
Engage your customers in a whole new way
Atmosphere is proven to keep your customers entertained and coming back for more. 8 out of 10 restaurant owners claim an enhanced vibe. An independent study proved a 19% increase in repeat visitors
Better than closed-captioned news and sports
People are at your restaurant to engage, have a good time, and relax. Sports are great, but talking heads with closed captions are not.
Replace commercial breaks with your promotions
Promote your restaurant specials with content
Grab your guests' attention with amazing content then mix in your own marketing promotions. Our Digital Signage Manager allows your messages to show up between the content
Upload or create your own graphics
Simply upload your video or static files and schedule when and where you'd like them displayed. You will also have access to a vast library of templates that are customizable with our text-authoring tool
Save money with Digital Signage
Save money on print materials by switching to digital marketing promotions. Our Digital Signage is a fraction of the cost of any other Signage options out there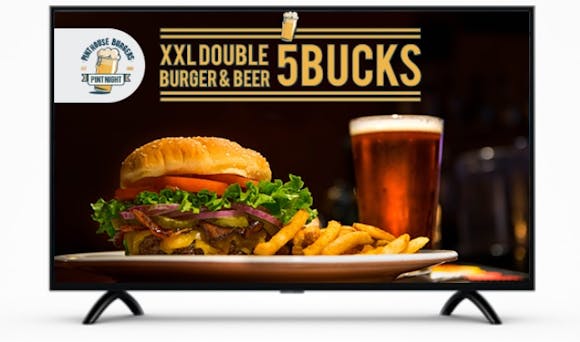 Find the perfect channel for your restaurant
5 hour loops of viral, family-friendly video, updated weekly
"We have Chive TV on 10 TVs all the time in each restaurant and, as the owner, the main reason I like it is that it's free. No invoices. I already get tons of invoices so this is something everyone likes and I don't have to worry about. "
Brandon Jones, Buffalo Wild Wings Franchise Owner
Easy DIY installation that anyone can do
Powered by an Atmosphere device
Access and stream Atmosphere's channels via an enterprise-grade streaming device.

Plug n' Play, on any TV
Simply plug your streaming device into any TV or matrix system, connect to the internet, and you're off!

Entertain in any setting
Atmosphere's programming doesn't require audio to be enjoyed, so it's perfect for any business type.
Join over 10,000 businesses, streaming now
Perfect for bars, restaurants, hotels, gyms, healthcare, salons - even stadiums!