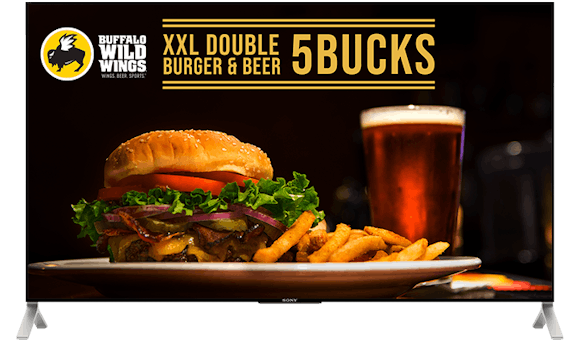 Unlock the smarter way to advertise.
At Atmosphere, we believe that TVs should add value — not noise — so we designed a tool for businesses to create custom ads that speak directly to customers. With Atmosphere's Digital Signage Manager, venues can display personalized promotions, limited-time offers, events, and more. 
Build and share fully customizable promotions. 
Our digital signage solutions enable venues to share personalized ads for everything from special offers to events within Atmosphere TV. Create compelling visuals for your business from over 100 customizable templates, or simply upload your own assets. The platform is easy to use and easy to update as offers change. 
Signage that impacts business. 
Save money on print materials that customers often ignore anyway. Atmosphere's Digital Signage Manager puts your ads in front of engaged customers and provides the flexibility to change promotional details on the fly. Proven to increase spending, our Digital Signage Manager reaches customers at a fraction of the cost of traditional signage materials. 
Grow relationships with customers.
Bring your brand out of the background. Atmosphere's Digital Signage Manager creates a seamless viewing experience that grabs customers' attention in between programming. Keep customers in the know and develop a deeper connection to your brand.
Activating Atmosphere's Digital Signage Manager is simple. 
Upload or create your own graphics. 
Our Digital Signage Manager grants businesses access to a vast library of visual templates, all easily edited through the text-authoring tool. For more personalization, upload your own logo, images, or video assets, and preprogram them to run at various times. 
Choose when and where to play your ads. 
In a few simple clicks, you'll have customized ads ready to display across venues, at any time.  Your digital signage will appear every four minutes in the middle of our content & ad slot loop, but venues can also schedule promotions to show on specific hours, days, or all the time. Unlike traditional commercial breaks, with with our digital signage advertising, you get full control over the design, timing, and order of appearance. 
Optimize promotional materials to reach customers better. 
Monitor how often your promotions play across venues and make informed decisions about the best times to display your ads using our reporting dashboard. Unleash the most effective promotional content by testing various designs and run times — then see the impact directly in our dashboard. 
Reimagine your signage today. 
Experience the benefits of fully customizable digital signage by viewing our video tutorial to get started or visiting our specifications page. We'll have your promotions in front of customers within the day.